Tag Archives:
social networks
zoom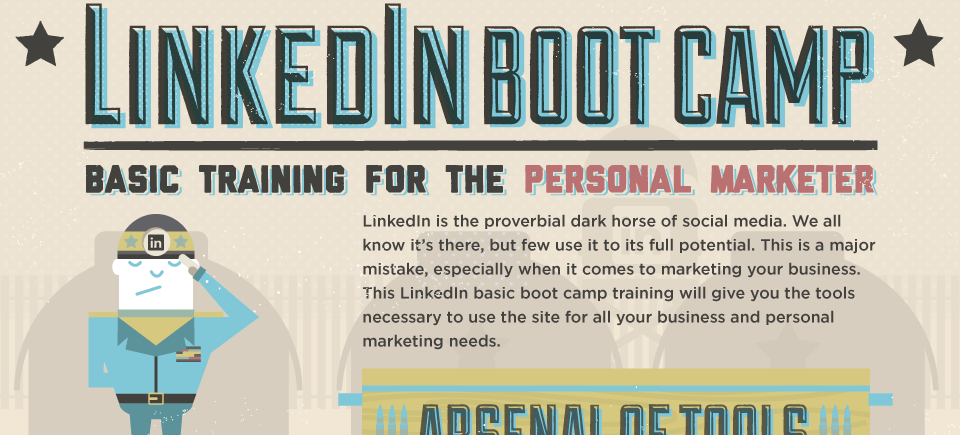 LinkedIn is probably the most misunderstood social network for those seeking to market themselves and/or their businesses.  We have done tons of research, trial and error, and just plain hard work to find out the best ways to market your business on LinkedIn.  Now we aren't going to share all our ninja tricks right here because there is just way too much to do for the average business owner to be able to do it themselves.  We did however, find an excellent resource of tips and tricks that you can implement and have great success with.  Here is the LinkedIn Bootcamp [INFOGRAPHIC] for your viewing and learning pleasure.  Courtesy of mindflash.com.

zoom
Although small business owners are struggling with the added workload of social media and content creation, small businesses are ramping up their social efforts and are increasingly finding value in paying others to help them with their social media efforts.
According to an online survey of 462 businesses (93% with fewer than 100 employees), conducted between Sept. 17 and Oct. 5 by VerticalResponse, 66% of small businesses are spending more time and money on social media than they did a year ago, with 43% spending six or more hours per week on social media activities for their business.
How are those hours being spent? On Facebook and Twitter, mostly, as 90% of respondents are active on the Facebook; 70% on the Twitter. Only a third of the small businesses surveyed said they are able to publish to their social networks every day.
For some small business owners, spending six or more hours per week on social media activities, coupled with the one to three hours for writing a single blog post, creates a major time strain.
That's why small businesses are investing more in getting help with their social media publishing efforts. The data suggests that if a small business is going to increase its budget, it will likely be for social media rather than marketing; 36% of those surveyed pay for social media publishing and analytics tools.
Small businesses should proceed with caution when considering when looking to have employees manager their social media.   Always consider getting help from a reputable, professional social media management firm like everzocial.
Here's an infographic highlighting the research data from Vertical Response:
budget
,
facebook
,
help
,
infographic
,
marketing
,
money
,
online
,
outsourcing
,
owner
,
research
,
small business
,
small business blogging
,
social media
,
social media collateral
,
social media management
,
social media marketers
,
social media spending
,
social networks
,
social networks management
,
spending more
,
survey
,
surveyed
,
time
,
twitter