Monthly Archives:
January 2013
Facebook, the Social Media giant, has once again made a change to the business page format in an effort to "better serve" page administrators and business pages. If I had a sling and a few stones, I'd like to shoot a few in the giant's direction right about now.
The change which you've likely noticed is the addition of a "Get More Likes" screen by "Promoting Your Page" option which they've positioned on the Page Admin panel right where the NEW LIKES used to be. No doubt this idea originated from an over achiever marketer at Facebook who has never actually administrated a page. Here's the problem with the new tool. It took the place of an effective and useful old one. Prior to the change, your NEW LIKES screen was easily viewable and you could see by the hour, when fans "liked" your page. This is key, because if you're running a promoted post, or even a regular post with a bang, your instinct as page admin is to watch whether and "when" any new likes come in. Sure, you can still click the "see likes" option, but it takes you to basic list of LIKES (in order) but without mention of the day or time that the like came in. The worst part is, there's not an option to remove or hide the new "in your face" screen. Come on Facebook, you can do better than that.
I'm all for change and improvements when it comes to Facebook, but when I begin to feel that the company's drive for income, surpasses it's desire to meet the needs of its members…the same members who are ultimately contributing to the success of the company, than I begin to feel ill-used and taken advantage of rather than a contributor to the paramount of social m
edia forums.
zoom

Did you know that almost 120 million Americans now own a smartphone, and 80 percent of those use their device to access social networks?
SoLoMo (Social-Local-Mobile) is the addition of local information to search engine results to capitalize on the increasing use of mobile, allowing businesses to push relevant offers to customers based on their location. And the results can be unbelievable – smartphones are expected to influence $200 billion worth of sales in 2013.
This infographic takes a closer look at how retailers are making the most of the SoLoMo opportunity.

zoom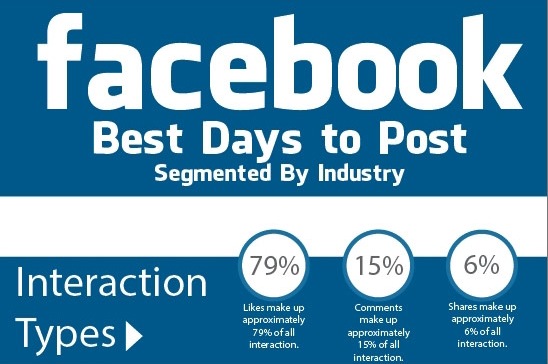 For those of us who work in social media, switching gears is something we are used to.
One of the  the greatest challenges for small business owners managing their own Facebook pages is determining exactly when to post a given piece of content so it attracts the most "likes," comments, and retweets. A recent infographic from LinchpinSEO could help crack that code by showing the best days to post to Facebook. Even better, it breaks it down by business type or industry.
For instance, companies considered "general retail" will find more engagement on Mondays, whereas nonprofits will see greater success on weekends, according to LinchpinSEO, which analyzed the user engagement of more than 1,800 Facebook pages from the world's top brands. The data were collected from April 1 to May 31.
It's important to remember that each type of business will have a different best day and time to post to Facebook. This infographic could help you identify it.  If you need further help with your Facebook Business Page, our team of Social Stagers are here to help do it for you.